If you live in the USA and are looking for the best Panchakarma treatment in the USA, you need not look any further. I have compiled a list of 13 best places for Panchakarma treatment in the USA that will save you a lot of research, hassle. And yes they are all authentic. You can find the cost, yelp ratings and about the doctors in this post.
Panchakarma is the ultimate detox in Ayurveda, a 5000-year-old science which is slowly making waves. Ayurveda is the science of life and Panchakarma is one of the most important treatments.
Panchakarma is the deepest cleanse you can imagine for your body. It removes every ounce of toxin in the body and leaves it rejuvenated and refreshed.
It resets the body. It is an excellent treatment for problems on skin like eczema, rosacea, psoriasis and chronic ailments including cancer. Panchakarma is also very beneficial in balancing the doshas (Vata, Pitta, Kapha) or energies in your body.
You can read the frequently asked questions to decide if Panchakarma is right for you.
Ayurveda does not just work on the body, it removes negative emotions from your body too. This cleanse is perfectly suited for all age groups. Be prepared to let go off stale emotions and toxins from your body. This is the perfect way to find your new self.
But the question is how do you choose a Panchakarma centre? You can read all the factors to consider before choosing one.
Here, I have compiled a list of 13 best places for panchakarma treatment in the USA to make your search easy.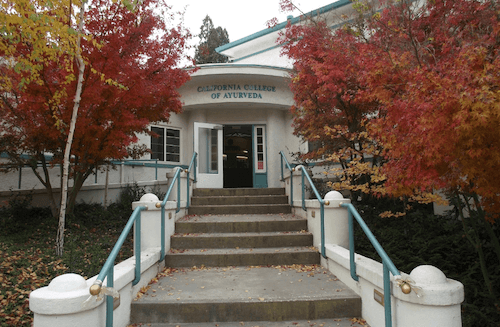 CCA or the California College of Ayurveda was founded in 1995 by Dr Marc Halpern. A quick search about this and you can find all the credentials about him. He is one of the most famous Ayurveda teacher and evangelist in our culture.
The college trains students on the principles of Ayurveda and is certified by CAAM. Dr Marc also offers consultation and Panchakarma treatment in this college.
This is one of the best Panchakarma treatment in the USA. You will feel rejuvenated from the inside out.
Cost for 5-day treatment: $2,690.00
Founded by famous Dr Vasant Lad, this institution is located in New Mexico's Albuquerque. Dr Vasant Lad is one of the most frequently referred names in Ayurveda in the West.
He has an experience of over 40 years and the student testimonials boast of his knowledge.
People have experienced great transformations in the centre. One of the most trustworthy centres for authentic Ayurveda.
The panchakarma treatment offered in the centre is one of the most authentic treatment, performed by trained staff. Rest assured while visiting Vasant Lad's Ayurvedic Institute.
The fees for a five-day program is $2690 and 50% is to be submitted while booking the slot for yourself.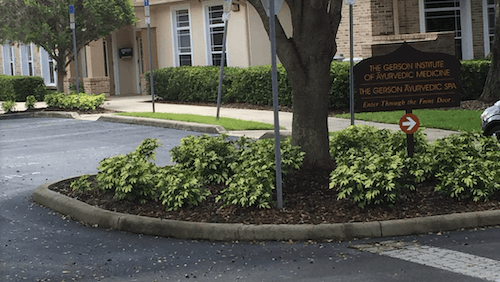 Cost of treatment:~ $750/day
Dr Gerson founded GIAM in 1982. He is a very accomplished western doctor in the field of integrative medicine. He holds a PhD in Ayurveda along with an allopathic doctor degree.
He is one of the most established doctors in the USA when it comes to Ayurveda. He is on the board of several Ayurvedic and Integrated medicine communities. His centre is in Lake Mary, Florida.
He has a very detailed page about certification of professionals for Panchakarma on his website and it's worth giving a read.
If you live in Florida or are planning to visit GIAM for Panchakarma, you definitely are in trusted hands. He is an expert in Panchakarma and in fact, his PhD thesis was about Panchakarma.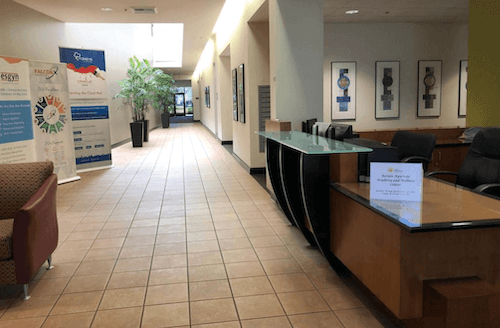 Kerala Ayurveda USA is founded by Jayarajan Kodikannatha and his team of expert Ayurvedic doctors from India holding a 5 ½ years of BAMS degree.
Dr Jayaraman has over 20 years of experience in healing people and he currently is the board director of NAMA (National Ayurvedic Medical Association).
Kerala Ayurveda is the most authentic form of Ayurveda alive today. A Kerala Ayurvedic treatment is done by trusted doctors and staff.
Their centre in the USA provides consultation and ayurvedic panchakarma based on individual needs.
The team has gained its name because of the quality offered. Their testimonials can vouch for them.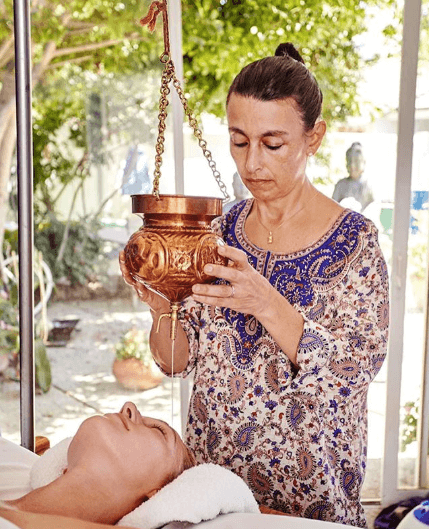 The Surya spa was founded by Martha Soffer, originally from Bogota, Colombia. She has a list of valid credentials in her kitty.
From being featured in LA yoga, podcasts to Goop, Martha has been on the list of celebrities like Kourtney Kardashian endorsing her healing powers. Gwenyth Paltrow swears by her treatments and that is the social proof of why this is one of the best Panchakarma treatment in the USA .
The description the website makes you want to run for a serene experience in Surya Spa. She has over 17 years of experience and holds a degree in Ayurveda. She is also a fabulous cook.
She designs personalised programs for people. Panchakarma treatment usually lasts 7 days. However, she can make tailor-designed short or long treatments for you.
She is coming up with a chain of Luxury Ayurvedic spas in boutique hotels latest being Santa Monica's proper hotel. Currently, she is available in Brentwood, California by appointment.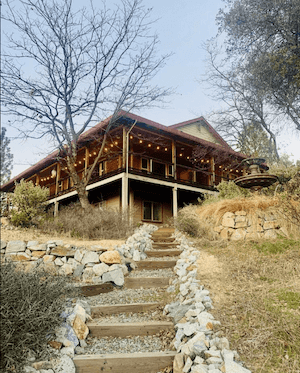 Cost of treatment(Bliss Rejuvenation): $350/day
Blue sage Ayurveda was founded by Ragaia Belovarac, a CCA trained Ayurvedic practitioner and Panchakarma expert.
The core team at Bluesage hold expert certifications in Ayurveda and also has guest practitioners coming over for consultation and therapies.
The centre is located in Nevada and it is such a beautiful and serene place that would want you to come back over and over. The founder, before being an Ayurveda practitioner was an interior architect.
His understanding of natural elements and their incorporation in buildings is what sets this place apart.
They offer training and classes on Ayurveda. Their knowledge of Panchakarma therapies is great. However, I could not find exact Panchakarma treatment details on their website. Bliss Rejuvenation might be what they call Panchakarma.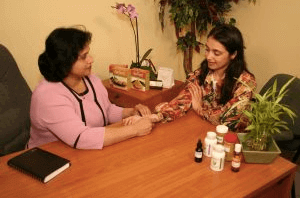 Cost of 5-day treatment: $2250
Dr Jay Apte is the founder of Jay Apte's Ayurveda and Panchakarma centre. She has over 40 years of experience in Ayurveda in California and Texas. She is one of the most accomplished Ayurvedic practitioners in the USA.
She is an allopathic and alternative medicine doctor. Not only did she serve as a gynaecologist for 9 years, but she was also the president of the California Association of Ayurvedic Medicine (CAAM) too.
I would blindly choose her for Ayurvedic consultation and Panchakarma treatments.
However, it is advisable to call them before going for an appointment. The website says that their office has moved from California to Texas permanently.
Their cost is pretty genuine. For a 5-day Panchakarma detox, they charge $2250 and even offer further discounts.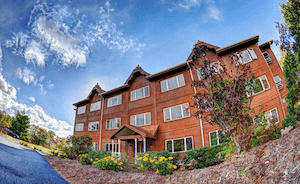 Price of a 6-day detoxification retreat: $1765
The Art of living retreat centre is located in North Carolina, Boone. The program offers an individual as well as group retreat options to people.
Set amidst beautiful scenery, they take care of your rooms, food and treatments during the retreat.
This is done at Shankara Ayurveda Spa centre which is located atop a mountain providing beautiful views. When you look for detox, nothing can beat a peaceful view along with world-class facilities.
This retreat offers the best of both worlds and at a very doable price.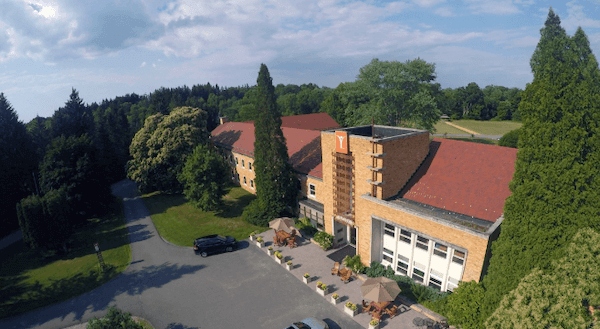 The Himalayan Institute has several centres in the US and in India. It was founded by Swami Rama in 1968, a not-for-profit organisation to spread the philosophy of Yoga. Today his centre is managed by two doctors Dr Carrie and Dr Timothy.
They take care of the retreats happening in their 400-acre campus in the USA.
If you are looking for a home away from home in the mountains, this is the place. The campus is surrounded by natural surrounded, trekking trail in the woods, a beautiful pond and spaces for contemplation within the campus.
The amenities are modern and the campus looks absolutely serene. Their team is extremely trained and professional. Every participant receives individual attention and consultation.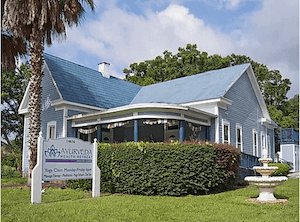 Cost of treatment: $575/day
Who doesn't like Florida? And on top of it, who doesn't like to get a full-body rejuvenating Ayurvedic treatment in Florida.
Located in the small town of Alachua in Northcentral Florida this place is a little paradise you would want to revisit over and over.
Richard and his team have won a lot of praises from the visitors and not one seems to be dissatisfied.
They have beautiful springs, lakes and parks for walking and contemplating during the day. You are in the cradle of mother nature and it significantly boosts your healing process they say.
Traditional panchakarma treatment lies between 5-21 days based on one's requirement.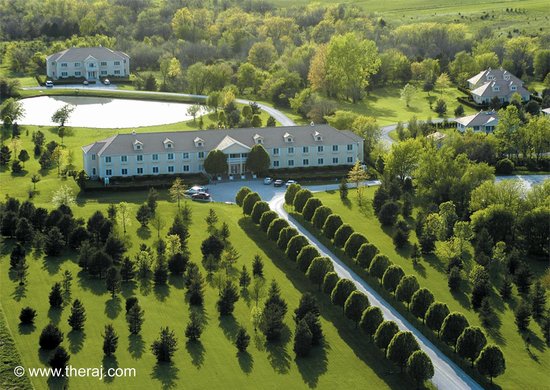 Cost of the treatment: $595/day
The Raj is a 25-year old famous and luxurious Ayurvedic health centre. For years The Raj has led the field in Ayurvedic treatments and is America's premier health institute.
It accepts only 15 patients in their retreats at a time and focuses more on individualized service and care. They have an enormous campus with beautiful landscapes spanning over 100 acres.
The treatments are authentic and approved by Maharshi Ayurveda Council of Physicians, considered to be the gold-standard of Ayurveda. They provide customised Panchakarma therapies to people based on their current health.
The Raj offers an ideal environment to transform and rejuvenate.
If you are looking for a blissful holiday near the beach and the hills alike, head over to Lotus Holistic Health Institue situated in San Francisco. The climate is suited for the treatments year-round.
They have a wide range of therapies to choose from along with residential Panchakarma treatment.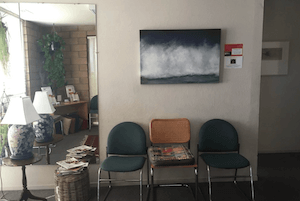 Dr Cynthia Copple, an Ayurvedic practitioner since 1984 is the director and has been trained with the likes of Dr Vasant Lad.
The ambience is beautiful and the place is healing to the core. They offer a 3-day and 5-day Panchakarma treatments along with tailored programs for every need.
Their cost for a 5-day Panchakarma is $2498 excluding lodging. The food is included in the price, however.
A big town girl decides to heal the world in Sunny Arizona, such is the story of the founder Avani Sukhadya.
She has a deep knowledge of Ayurveda and is a certified Ayurveda Practitioner. Along with this, she holds several other certifications in the field of Ayurveda and natural healing.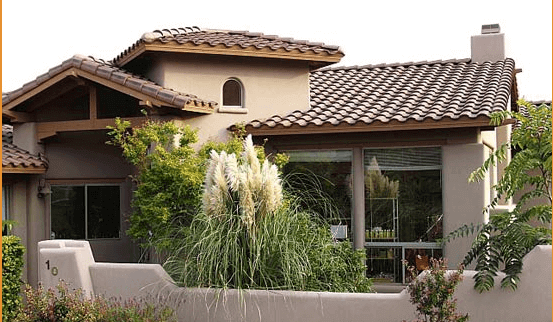 If you are looking for some peaceful time in around Arizona or wish to indulge in natural therapies, you should visit this place.
They organise special retreats based on your requirements as well.
The price of the retreat is $2,299 for this 5-day retreat. This includes all medical services, massage treatments, lectures and classes, special meals, and juices, plus accommodations in our private deluxe rooms.
If you are contemplating going for Panchakarma, you should. It is an absolutely beautiful therapy that will leave you wanting for more. If you are sceptical about taking this treatment, you can first try a small 5-day home-based Panchakarma treatment. 
I hope you found your perfect and the best panchakarma treatment in the USA. If however, you prefer taking the treatment at the origin of Ayurveda, I have a list of 15 places for panchakarma treatment in India as well.
If you find the article beneficial, share with your friends and family.
Comment below if you have gone through the therapy and how was your experience throughout.
Follow us on Facebook and Pinterest and be a part of our growing community.
Like this post? Share it!
Chakshu is a US alliance certified yoga teacher, a biotechnologist and an Ayurveda evangelist. Her passion is to help people live a toxic-free life, emotionally and chemically. She loves reading self-help books. When she is not writing, she is busy thinking about life.