Are you looking for Panchakarma in Sri Lanka? or a vacation combined with relaxing and rejuvenating Ayurvedic therapies?
Sri Lanka can offer you the best of both worlds. Apart from India, another country that has one of the most profound Ayurvedic resources in Sri Lanka.
Ayurveda has been practised in Sri Lanka for over 5000 years. The practice in Sri Lanka is a mixture of Indian Ayurveda, Unani medicine and traditional Sri Lankan Ayurvedic therapy also known as Deesheya Ayurveda.
Sri Lanka offers beautiful views,  perfect climate throughout the year, a good variety of tropical fruits and vegetables,  and is also an expatriate hub.
In the last few years, there has been an increase in tourists visiting Sri Lanka for ayurvedic treatments, especially from Germany, Russia and Japan. Apart from Ayurvedic treatments, Sri Lanka has also become a hub for Yoga training and retreats.
Sri Lanka is a very small Island and the two biggest cities are Colombo and Kandy.  The beaches are untouched and there is a wide variety of flora and fauna to indulge in. This place is a paradise for elephant lovers as well.
Most places offering Panchakarma treatment in Sri Lanka are resorts and spas. If you just want to relax, rejuvenate and detox in nature's lap then Sri Lanka has some decent options.
If you are looking for ayurvedic hospitals for chronic disorders it is better to visit India as there are specialised Ayurvedic treatment centres and hospitals with complete focus on treatment.
In order to make your search easy,  I have curated  this list of 9 best Panchakarma in Sri Lanka.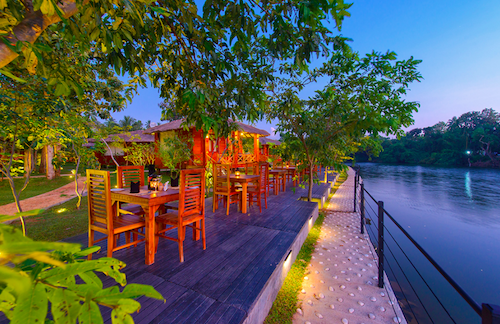 Price: $3000 for 30 days
Ratings:
Karunakarla resort is a beautiful beach resort which offers Ayurvedic wellness and treatment packages. The location is in Negombo and is surrounded by lush green and peaceful environment. It is only 12 km from Bandaranaike International Airport in Katunayake, which is the main international airport of Sri Lanka.
They offer Panchakarma therapy after consultation with an in-house Ayurvedic doctor. It is a decently priced resort and can be used for longer stays.
Karunakarala Ayurveda Resort is bordered by the river 'Ma Oya'. It is surrounded by natural landscapes and soothing sounds of birds and flowing water. It is a beautiful property which also offers Yoga retreats and leisure activities.
They have another centre in Japan, one of the first few in japan to promote Ayurveda. They have been covered in a wide range of magazines and articles.
The reviews are amazing as well.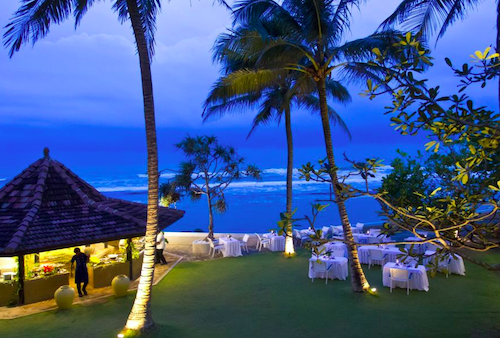 Price: $3000/ 15 nights including treatments
Rating 4.5
Paragon Sri Lanka is tropical heaven located almost 130 kilometres, South Colombo.  It was built in 1996 and the place has been specially designed by tropical Architects.  It is surrounded by a lush green environment which makes your stay pleasant and enjoyable.
They offer a great variety of ayurvedic treatments including Panchkarma.  Minimum stay at a place is two weeks. It is a five-star property with great amenities and beautiful surroundings to help you can relax.  The place has in house ayurvedic doctors and trained therapists.
They recommend the right rejuvenation package after analysing your body.
Price: 80 euro per day
Nature Lanka resort is one of the premium resorts in Sri Lanka. It is a serene Ayurvedic resort located by the sea and on the other side is a mini jungle. It is far from the cacophony of the city and one can experience a tranquil healing experience. Panchakarma and Wellness treatments are the highlights of Nature Lanka.
It is located on the beach at the tropical forest and of very Pristine water. This place gives you an authentic Sri Lankan experience with traditional Sri Lankan rooms and food. They do not have a TV or radio in the rooms.
Holiday packages include relaxation, Panchakarma and Ayurvedic Rejuvenation therapies to rejuvenate your body from the inside out.
They have in-house doctors and therapists trained in performing Ayurvedic therapies. The place is frequented by a lot of European tourists.
Reviews of this resort are pretty good. You can read some of the testimonials here. One of them is from the First lady of Estonia and I was impressed.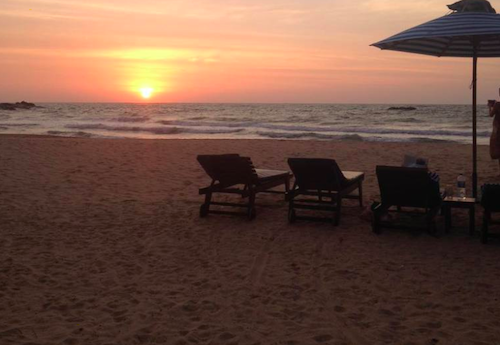 Villa Lanka Pearl is a health resort located in Balapitiya. It is ~100km from the Bandaranaike International Airport and around 47km from Koggole Airport.
Located on a stretch of white sandy virgin beaches, this place is a heaven for all health seekers. It is built in a contemporary yet traditional style. The resort has Austrian management and most of the guests visiting are German or Austrian.
It is one of the best Panchakarma in Sri Lanka offering a variety of treatments from mild to intense.
The rooms are designed with traditional elements. There are no Televisions in the room or the room supporting their ideas of true internal healing.
They have a team of in-house doctors and therapists to diagnose and recommend therapies. The food offered is Ayurvedic traditional cuisine. They have great reviews about the hospitality of their staff.
The minimum stay can range from 8 days to 3 weeks depending upon your treatments.
AMUNA carries Sri Lanka's age-old Ayurvedic tradition of holistic healing. The place is built keeping holistic healing in mind and pleases all the five senses. This place is a sprawling lush green facility in 22 acres.
It is located near a lake and surrounded by lush green forests. This place is serene, beautiful and instantly calms your mind.
They have an in-house team of doctors and therapists. They offer several Ayurvedic wellness packages along with Yoga and meditation. A strong focus is laid on tailored nutrition for all participants.
The resort has a traditional village concept and is tastefully created to calm your senses. Their treatment oils are made in-house too.
They have an organic herbal garden in the centre. Most food and medicines are prepared from the fresh produce from the garden.
Price: $500/day for food and treatments
Surya Lanka Ayurveda Resort was founded in 1995 and is one of the first Ayurveda hotels in Sri Lanka to cater exclusively to Panchakarma and Yoga guests. It offers authentic Ayurveda in Sri Lanka. the nearest airport is Magwalle Lagoon Airport. You can also take a car from Bandaranaike International Airport which is 150 km from the resort.
It is not a luxury resort and the prices are fairly low compared to the other resorts. The rooms and treatment centre is extremely clean and their hospitality is at par.
The treatments are tailored to the need of every individual by trained doctors and therapists. They also conduct daily yoga sessions and excursions to nearby places.
This resort is located on the beach and offers pristine views of the water.
Their Panchakarma treatment does not just focus on Ayurvedic massages. They include other therapies as well. You can read about the entire Panchakarma process here.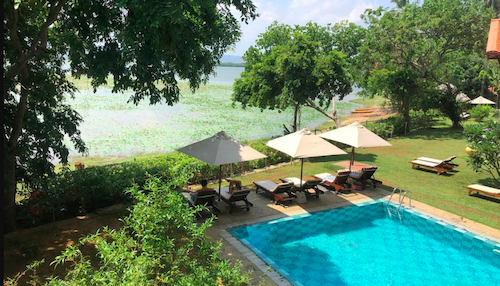 Price: $250/night
The Thaulle Resort combines great design, holistic wellness and sustainability all in one place. The resort is located in Tissamaharama near the Yoda lake and offers serene views of the lake from every room.
There is a private treatment centre outside the main building to promote. distraction-free environment for healing.  Their services range from individual treatments to complete spa cures. Each treatment is personalized and follows a holistic approach including diet and medications. The senior physician, Dr Upul, has over 15 years of experience in the management of European spa guests.
There are a lot of things to explore nearby including Yoda Lake, a nearby local village and a Buddhist holy city of Kataragama. This city is only a few miles away and can be visited during the day.
You get tailored food dishes that support your treatment. Most of their produce comes from local villages or their own herbal garden, promoting local economy and sustainability.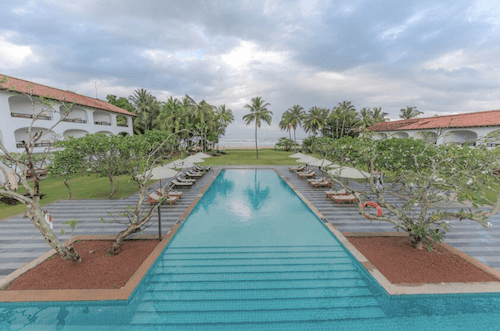 Price: $350/night
Heritance Ayurveda is one of the luxury offerings from Heritance. Previously known as The Neptune, this resort redefines luxury Ayurveda.
The property is located on the beautiful beach of Beruwela. They have an in-house team of doctors and offer various Ayurvedic treatments.
You can enjoy morning yoga sessions with experienced Yogis by the beach and bask in the beauty around.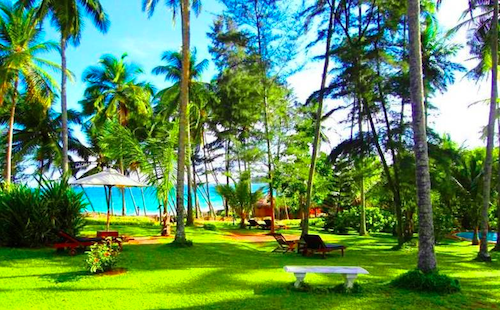 Price: ~$2500/14 nights including treatments
Vatter's garden is a palm plantation turned Ayurvedic garden. It is supported by the Board of Investment of Sri Lanka. The Ayurvedic Centre is supervised by three experienced Ayurveda Doctors. The resort is running under German management.
It is the only resort in the list which has a hospital registration from the Department of Ayurveda. It is located at the waterfront near a fisherman village in the extreme south in the Matara District.
The resort is located on a sandy beach of the Indican ocean and has a local village nearby. There are approximately 13 rooms in the resort.
The resort is away from the hustle-bustle of the cities and one can enjoy a peaceful healing vacation here.
Conclusion
Choosing a place for panchakarma treatment in Sri Lanka is not as easy as every place has its own charm. Every place is unique and has pristine views of the sea or lush green forests. These 9 best panchakarma centres in Sri Lanka have been handpicked after a lot of research.
This small island definitely is a true heaven for wellness vacation seekers. Most accommodations are hotels offering luxury Ayurvedic vacations.
If, however, you are looking for a focused Ayurvedic treatment for a physical condition, I would suggest looking for Ayurvedic centres in India.
Here are some more resources on panchakarma that I thought you might find helpful.
Let us know in the comments below if you have stayed at any one of these resorts and how was your experience.
Have we missed something? Comment and let us know you about more such places in Sri Lanka.
Follow us on Facebook and Pinterest and be a part of our growing community.
Found this helpful? Share it with your friends and family.
Like this post? Share it!
Chakshu is a US alliance certified yoga teacher, a biotechnologist and an Ayurveda evangelist. Her passion is to help people live a toxic-free life, emotionally and chemically. She loves reading self-help books. When she is not writing, she is busy thinking about life.