Do you find it difficult to get rid of acne scars no matter how hard you try? Are you becoming self-conscious and stay away from the camera because of your scars?
Acne scars are the second most common skin issue people suffer from and needless to say find it the most embarrassing as well.
In our last post, we discussed acne and how to effectively treat it in 4 simple steps. In this post, we will discuss how to remove acne scars naturally using Ayurvedic remedies.
Why am I the only one getting acne scars?
First of all, you are not alone. Acne is a very common condition in Ayurveda and often known as Yuvan Pidika.
They are further classified on the basis of age and causative factor. In most cases, however, it is caused by vitiation of blood by ama or toxins or by the imbalances of doshas.
Pitta dosha is the most prominent.
Treatment of acne and scars in Ayurveda is a combination of external and internal healing. With proper treatment, one can get remove acne scars naturally and quickly.
Acne leaves scars behind. Some scars are brown spots while others are deep. Some even leave large open pores.
However, a better understanding of scars can help you treat them better.
Causes of scars:
Cystic Acne due to hormonal imbalance
Cystic acne is the most painful and the most time taking acne to heal. These originate deep in the skin and often takes a lot of time to form a head.
These type of acne and scars is caused by hormonal imbalances and the scars are often difficult to heal. Get your hormone levels checked asap.
The cystic acne is extremely painful. We understand that having a face full of cystic acne sucks and as soon as the head is formed the first instinct is to poke it.
But poking it or pressing it hard to get rid of it asap will only cause deep, open pores which are the most difficult to treat. Your scars will remain to tell about the acne tales throughout your life. If you don't want them to happen, don't burst your cystic acne. NEVER!
Picking on your acne
Picking is a strict no-no when it comes to acne and pimples. But the urge to get rid of them quickly often prevents people from doing so.
Your acne is a storehouse of a lot of microbes. Touching will spread the acne-causing germs on your face and also result in brown spots or scars on your face.
Lack of vitamins and minerals
If you don't have a proper diet, your skin will not get the nutrition it needs. To maintain good skin health, it is important that your diet contains omega-3, zinc, vitamin E, iron and vitamin C along with all the other minerals and vitamins.
A lot of people suffering from acne scars have are deficient in omega-3 and vitamin E. Lack of elasticity in your skin will lead to open pores and scars. Maintaining a good diet is hence a priority if you wish to remove acne scars naturally.
Lifestyle
One of the most underrated things when it comes to acne and scars is your lifestyle. Having too much coffee, alcohol, junk food and being awake till late at night will mess up your system.
Having a good lifestyle will help you get rid of acne and scars and will balance your hormones too. Your body clock is a complex algorithm of correlation and regression and the better is the maintained rhythm, the better will be your health and skin.
Having a fixed sleep-wake uptime is the first thing to do. Reducing stress and anxiety by practising meditation is two. Eating your meals at the same time every day is also a must.
How can I get rid of the nasty scars asap?
Diet
Eating food rich in omega-3 is a must-have. Include chia seeds or fish oil capsules for omega-3. Eat soaked almonds in the morning id you live in a warm country during summers and dry almonds in winters.
Almonds are extremely rich in Vitamin E which gives our skin elasticity and hydration from the inside.
Drink a lot of fluids throughout the day to maintain hydration and flush out the toxins.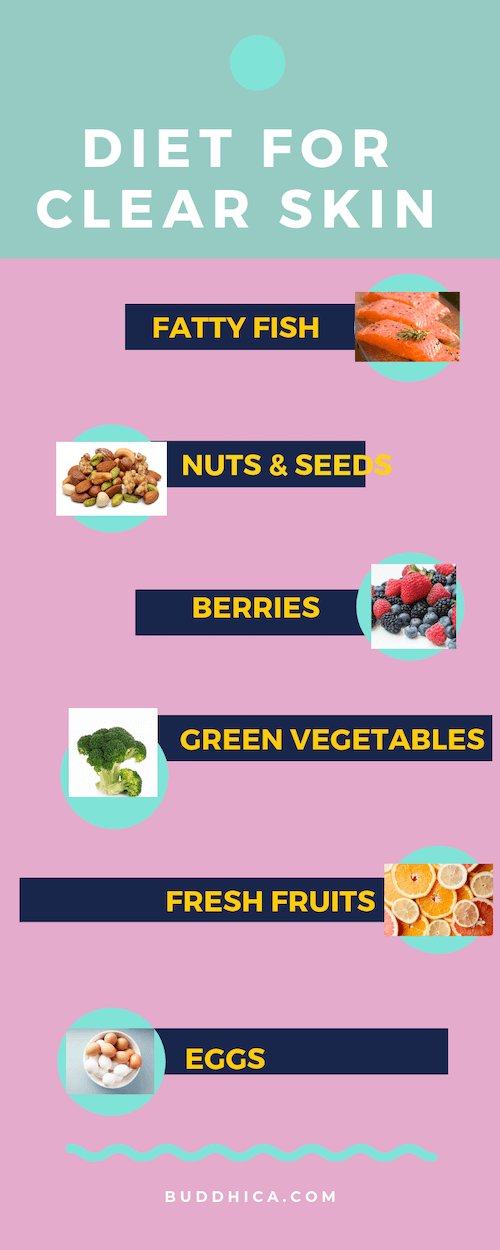 Oil cleansing
Oil cleansing is an age-old method used to clean skin from all dirt and gunk. It works wonders for oily prone skin as well.
However, choosing a non-comedogenic oil is the most critical step. A good quality sesame oil is a must-have in your skincare routine.
Take 10-15 drops of sesame oil and without pressing hard massage it onto your dry face with dry hands.
Massage it for 2 minutes and then wipe it off with a hot towel. Doing it every day will make your skin glow and also remove impurities from clogged pores preventing more pimples and scars from developing.
This provides ample moisturization to your face and the scars will respond quickly and you will get clear glowing skin.
Right Toner
I have seen people with acne and scars using alcohol-based toners. These toners might dry out the sebum for some time but will make your skin extremely dry and force your skin to produce more sebum in the long run.
Using pure rose water instead will do wonders for your scars. A good quality rose water should do the job. The quality is very good and the results too.
Keeping you face moisturized
Contrary to popular belief, moisturization is a must for acne and scar prone skin. For acne scars, a good aloe vera gel is an extremely good moisturizer.
It doesn't clog pores and gives your skin a boost of hydration to maintain its elasticity. The good thing about aloe vera gel is the soothing properties and the fact that no amount is too much.
Stress Management
Stress is the most significant culprit for acne and indelible scars. Reducing acne might help you achieve better skin in a few days itself.
Practice meditation for 10 minutes every day. Now, this might be difficult in the beginning doing by yourself. A guided meditation on youtube might be your answer.
In order to make it a habit, do it at the same time every day. Like before starting your work at the office or while traveling to your college, just close your eyes and listen to the guided meditation for 10 mins.
It will become a habit and you will feel much more relaxed throughout the day and your body will respond accordingly.
Face masks for removing acne scars naturally
These traditional face masks listed below are Ayurvedic recipes which are tried and tested and when used regularly will help you remove acne scars naturally, quickly and effectively.
The earlier you start the better. Treating older scars is much difficult than recent ones.
Earthy citrus mask
Ingredients:
1. Fuller's earth(Multani Mitti)
2. Rosewater
3. Honey
4. Lemon
Recipe
Mix 1 teaspoon of fuller's earth with 1 teaspoon rose water, 1 teaspoon of honey and a few drops of freshly squeezed lemon.
Apply it on your face every day for 30 days and say goodbye to your scars.
The powerhouse
This one is a power-packed face pack for both acne and scars.
Ingredients:
1. Neem
2. Haldi
3. Multani Mitti
4. Sandalwood powder
Recipe
Mix ½ teaspoon powder of neem leaves, a pinch of turmeric, 1 teaspoon of fuller's earth and ½ teaspoon of sandalwood powder. Add water to make a thick paste.
Apply evenly on the entire face and enjoy a fresh glowing skin. Sandalwood will soothe your acne-prone skin and make your skin glow.
Spicy Treat
Ingredients:
1. Nutmeg(Jaiphal)
2. Rosewater
Recipe
Nutmeg powder or Jaiphal powder in Hindi is a very effective ayurvedic remedy for scars. Nutmeg paste obtained by rubbing it against a coarse surface along with rose water is better than powdered nutmeg.
The heat generated by friction during paste making makes it more potent and gets easily absorbed in the skin. This helps in reducing the scars effectively from the first use onwards.
To make this paste you can use your kitchen slab. However, if it is not coarse enough, use a rolling board(chakla) or a coarse rock for the same.
Ayurveda connects your external health to your internal health. If a problem manifests n the face, chances are it has been developing in your body for a long time.
Do not ignore the signs and learn to listen to your body. Your body will tell you how to heal itself. Stay calm, relaxed and focused. You will heal yourself from the inside out.
You will be able to remove acne scars naturally by following the remedies regularly for a month.
If you want to learn more about natural healing, join our facebook and Instagram community.
Like this post? Share it!
Chakshu is a US alliance certified yoga teacher, a biotechnologist and an Ayurveda evangelist. Her passion is to help people live a toxic-free life, emotionally and chemically. She loves reading self-help books. When she is not writing, she is busy thinking about life.