Are you new to a plant-based diet? Chances are you are worried about preparing plant-based meals because you have no idea how to go about it.
You have been looking at picture-perfect vegan foods on social media and want to try some on your own.
You have a list of foods you can eat or not as a plant-based diet. But making this list into a meal is challenging.
I have been there. I have always been a vegetarian but with a plant-based diet, I had to quit eggs, milk, cheese, butter etc. Omelette was my go-to breakfast.
I was struggling to find simple and quick recipes that can be made in 15-20 mins.
I tried googling, read articles, watched videos but all of them were either too fancy or just impossible to source.
I started experimenting with my own food. The result is this section, a newbie's guide to vegan food.
In this post, I am giving you a quick and delicious recipe for quinoa pomegranate salad which is perfect for summers.
The light and fresh salad is full of flavour and nutrition. And guess what it takes only 20 minutes to make it.
Quinoa Pomegranate Salad
I usually eat salads for lunch. The salads are packed with proteins and are not just veggies.
I use a lot of sprouts, beans and lentils for making salads.
This is one of the most beautiful salads I have had recently. It is light, easy on your stomach and can be consumed as either lunch or dinner.
A refreshing twist to boring quinoa, you will want to eat it again and again.
This salad is full of herbal freshness which includes parsley, mint and fresh cucumber.
You can add parsley chutney to add more flavours to the salad.
Quinoa Pomegranate Salad Recipe

Quinoa and Pomegranate Salad
Author: Buddhica
Prep Time: 20 mins
Cook Time: 20 mins
Total Time: 40 minutes
Yield: 4 to 8 servings
Ingredients
For salad
1 cup quinoa
1 cup pomegranate
1 cucumber diced
½ cup olives
¼ cup chopped mint leaves
¼ cup raisins/ cranberry
¼ cup chopped parsley/ coriander
2 cloves of crushed garlic
For Vinaigrette
1 teaspoon ACV
4 teaspoons Olive oil
For sauce/chutney
½ cup parsley
1 small tomato
1 small onion
1 Indian gooseberry pitted and cut into small pieces/ or juice of ½ lemon
1 teaspoon cumin seeds
1 teaspoon salt
1 green chilli
2 tablespoon water
Recipe
1. Wash quinoa underwater for about 30 seconds in a mesh colander.
Quinoa seeds are small and a lot of them might end up in the sink if you don't use the right container for washing them.
Quinoa contains saponins that give it a bitter flavour. However, washing for 30 seconds under running water removes the saponins.
2. Cook 1 cup quinoa with 2 cups of water. Bring it to a boil and then let it simmer for 15 mins. Let quinoa absorb all the water.
Turn off the flame and cover it for 5 more minutes for the steam to cook it up completely.
Remove any excess water and fluff it using a fork.
3. Dice all the veggies.
3. In a small bowl, prepare your dressing.
Add olive oil, ACV, crushed garlic and salt in a small bowl and give it a nice whisk to make it creamy.
4. For the sauce, grind all the ingredients together in the grinder. Make a fine paste and keep aside.
This is a wonderful chutney and can be used with other meals as well.
5. Take cooked quinoa and add all the vegetables to it. Add vinaigrette and chutney to it. Give it a nice mixing and fluff it up using forks.
6. The last step is to top it up with pomegranate seeds and raisins/cranberries.
Note*: You can keep it in the refrigerator and eat it cold. I prefer it at room temperature though.
Nutritional Information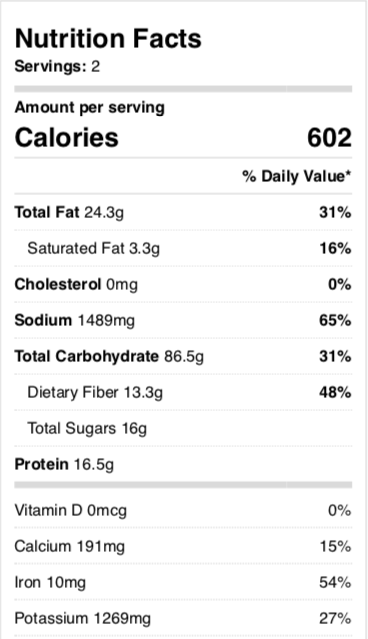 Did you try the recipe? Comment below and let me know how it turned out.
Remember, your fitness depends on your health. A plant-based diet is a perfect approach to healthy living.
Looking for a simple vegan dessert, try my favourite vegan chia pudding recipe here.
Follow us on Facebook and Pinterest and be a part of our growing community.
Signup for our newsletter below and receive updates directly in your inbox!
Like this post? Share it!
Chakshu is a US alliance certified yoga teacher, a biotechnologist and an Ayurveda evangelist. Her passion is to help people live a toxic-free life, emotionally and chemically. She loves reading self-help books. When she is not writing, she is busy thinking about life.