Do you love meditation? Do you love the idea of immersing yourself into the deep calm state and rejuvenate your body and mind?

Do you want to sit in for a longer duration? But the whole idea is taking a backseat due to the constant twitch in the back or numb feet or ankle shouting to be rescued.

This is one of the biggest problems faced by beginners and advanced meditators alike. We all have been there. However, there exists a solution to this problem as well. "Yoga cushions".

Yes, you heard that right. Yoga cushions and mats have been used by meditators since ages and we are so thankful for them.
Here we have curated a list of the 9 best meditation cushions in India to help you deepen your practice and enjoy the benefits without worrying about the constant backache.

But why do we need cushions or chairs?

If you have been practicing meditation for some time, you must have realized the essence of being in a comfortable posture where you can simply stay still without worrying about the aching back or the need to fidget.
Or if you are a beginner you would have experienced the pain of sitting straight for even 10 mins.
The major cause of these aches and numbness is incorrect posture.
Just like it is important to be in a correct posture while sitting on a chair or walking or standing, there is a correct posture to sit in meditation as well.

The first and foremost requirement is to sit straight.
As a yoga teacher, I have noticed that 85% of the students are not able to sit straight for more than 15 mins without hunching their backs or stooping their shoulders.
The modern-day sitting habits have depleted our capacity to sit straight. Most of the pressure is taken by our lower backs and hence the increasing cases of backache.
Find your own comfortable position or Sukhasana.
Every person is designed in a different way and the body structure permits one person to sit easily in one pose than others.
It is imperative to find your Sukhasana if you want to elevate your practice.
When you use a cushion or a chair, you get an additional layer of support to prevent undue pressure on knees or back.
Look at the picture below. This explains perfectly what a good cushion can do for the posture.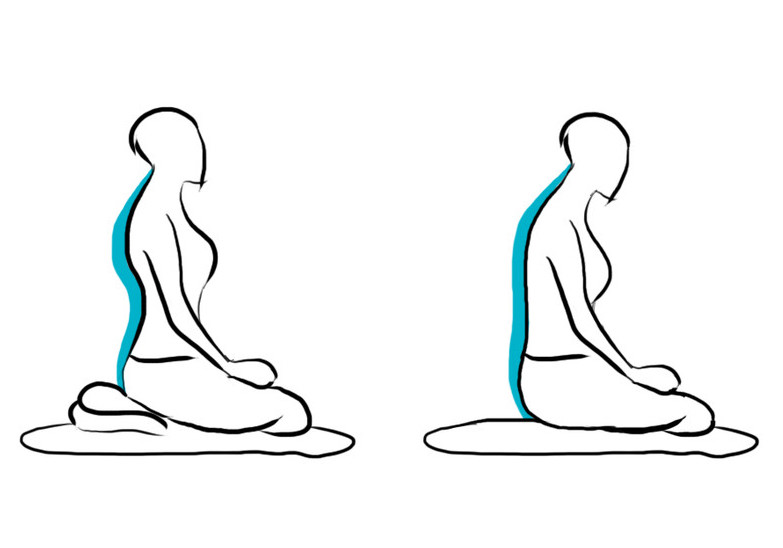 Sukhasana, what it is and why bother?
In the 8 limbs of yoga, asana precedes meditation.
Asanas were supposed to make you strong enough to be able to increase the focus of mind and sit in the meditative state uninterrupted for longer hours.

However, not all individuals needed to sit in a cross-legged position.
It was also important for disciples to identify their Sukhasana or the happy pose in which they could sit for hours without any discomfort.
It can be unique to every individual.
I find a cross-legged pose to be my Sukhasana. However, even in my Sukhasana, I am not able to sit straight for more than 15 minutes.
Blame it on the constant habit of sitting in front of the laptop, hunching happens.
It was when I went for formal training with a teacher for meditation I saw these beautiful and the most comfortable cushions and yes I was so impressed and why not, I had the solution to the aching problems right in front of me.
Since then I have been doing my search for natural, sustainable and eco-friendly cushions, mats and chairs. Here I have compiled a list of the 9 best meditation cushions in India for you.

9 best meditation cushions in India

India is the land of yoga and meditation, yet I find very few brands serving the needs of people in this aspect.
However, there are several smaller brands that are coming up to cater to these problems.
After thorough research, I have shortlisted 9 best meditation cushions in India for every need.
1. Friends of Meditation ® Up and Down Floor Cushion for Yoga and Meditation (Recommended)
I recently found this brand on Amazon and I am impressed by their range of products.
Not only do they have products for every budget and every requirement. From cushions to chairs, they have it all.
They even have a bigger size meditation chairs. The price range varies for different products. But most of the products are under INR 4,000.
This foldable meditation chair is one of my favorites, compact and comfortable. People who are looking for a backrest, a chair is the best option.
They have variants for taller people as well.
I have used these small chair style cushions during my training and I used it even to sit on the floor and study or work. These are so comfortable and gives me the feeling of being rooted.
It can be used for any type of meditation practice.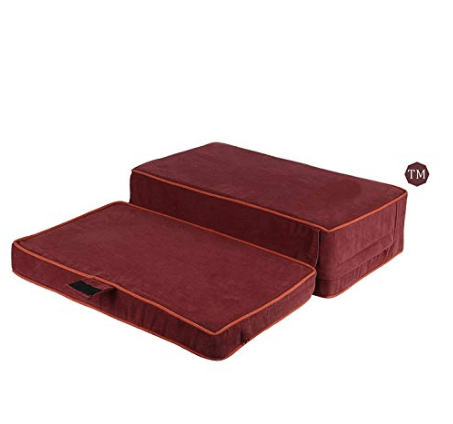 2. Hugger Mugger Zafu Meditation Cushion
Hugger Mugger is an international brand famous for its yoga and meditation accessories. Hugger Mugger products are good for the people and the planet.
They are an eco-conscious brand and I love their products. I have tried their yoga mat which was good. In India, the products are a little quite expensive.
But if the price doesn't bother you, don't let go of this beautiful green meditation cushion. The price for this cushion is around INR11,000 on amazon. This is particularly good for zen meditation.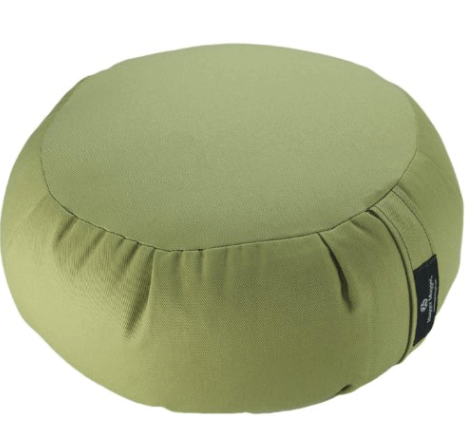 3. Blissage Quiet Fiesta Light Weight Meditation Chair
This is one is here for the amazing design especially suited for meditation in a cross-legged position. It has been designed ergonomically for travel and meditation.
If you want to meditate in the park or terrace or anywhere. This will give you the flexibility to do so. This had pretty good reviews on amazon.
The foldable chair is perfect for the posture and is sturdy enough to take the weight. Kudos to the team for this beautifully designed chair. The price for this is INR 3,500 on amazon.
4. Organic Kapok Filled Dhyana Meditation Cushion (Exclusive)
Then it is this beautiful Tibetan cushion. I saw these cushions in McLeod Ganj in Himachal Pradesh first time in Dalai Lama's temple.
People had these beautiful and delicate cushions with intricate details.
Not only did it look beautiful it was functional too. The lower part is used to sit on it and the smaller one is placed between your knees and your thighs in the Vajrasana, taking the weight off from your knees and allowing you to sit for a longer duration.
Though it is placed on a higher side. It is because of the kapok filler which makes it exclusive too. The price of this cushion is INR 11000 on amazon.
Similar variants can be found near Tibetan monasteries for a much lesser price but it will be filled with cotton, not kapok (which is a wild tree with fibers known as cotton silk).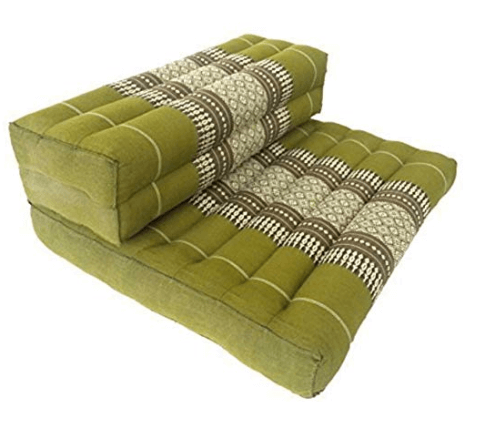 5. KANYOGA 100% Cotton Buckwheat Filled Round Meditation Zafu Cushion
I had used a pillow with buckwheat hulls once and I loved the feel and the aroma of it.
When I saw this I was instantly filled with the same aroma. Buckwheat fillers are one of the most natural alternatives available in the market and also the most versatile.
You can use it as an elevation for your hips while sitting or you can sit on top of it. It takes the shape of your posture providing ultimate comfort. The price range is decent at INR 1,500 on amazon.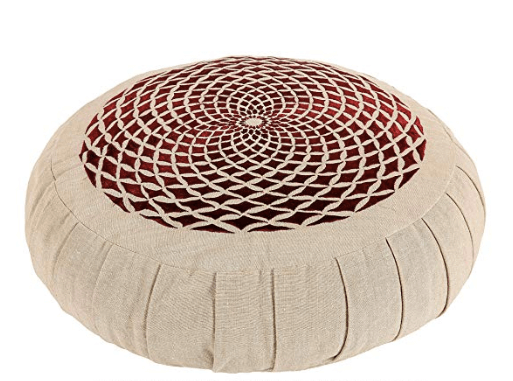 6. Nishchala Pratigraha – Vetiver Grass and neem Meditation mat
This mat is heavenly. If you are a big fan of vetiver or khus, this will amplify your meditation practice for sure. The two-piece set comes with a cotton cover and a vetiver mat.
The mat can be inserted into the cover prior to use. It can also be used separately but the surface is coarse.
This is a small mat and can be folded as per the requirement, under the knees or to lift us the spine. It is decently priced at INR 1,900 on amazon.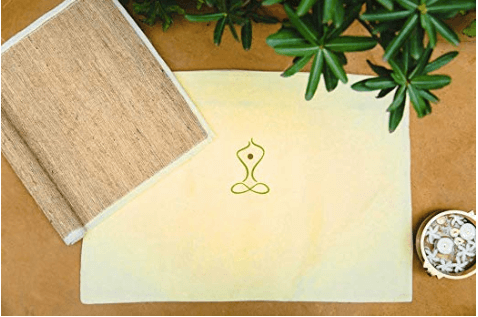 7. Handmade Indian Meditation Yoga Mat
This looks like a very comfortable yoga cum meditation mat ideal for people knee or joint issues. This is available in various color options on Amazon.
I have seen a lot of people use this to avoid any injuries during yoga. This can be used as a sleeping mat as well.
This is again a very versatile piece and can be molded accordingly. This is made from cotton fabric and the price is around INR 3,500 on amazon.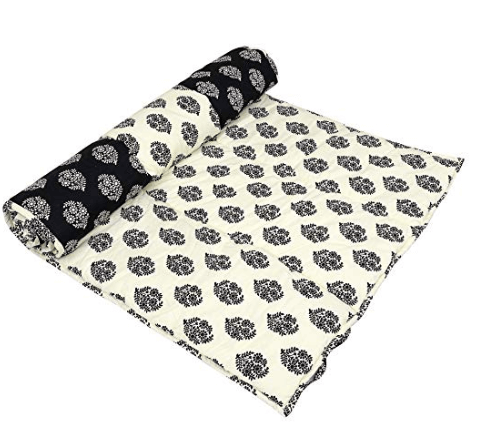 8. Encasa Homes Round Floor Cushions
The colors are pretty and this can be reused as a cushion for your chair. This is a very calming cushion made from canvas and cotton.
The height is perfect to be used to lift up your spine. If your practice zen or vipassana, this can be a really compact and perfect companion. The price is around INR 1,300 on amazon.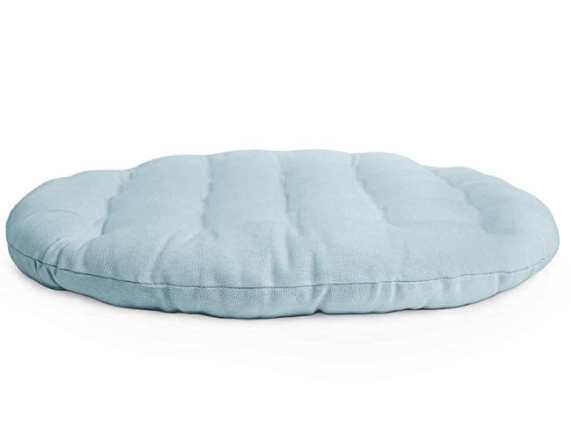 9. Tatami Cushion Natural Straw Meditation Zafu Chair
Having this meditation cushion for meditation will elevate the practice simply because it is so pretty.
This beautiful tatami mat made from wheat straw and cushion is going to be a long term companion for your meditation practice.
This is available on amazon for INR 4,000. I want to buy them just for how beautiful they look here.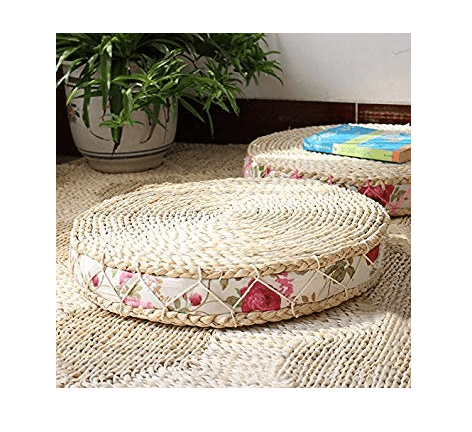 My personal favorite is the meditation chair by Friends of meditation. The backrest makes it really versatile. It's my favorite sitting place at home.
Now that you have a complete list of what's available, go ahead and enjoy your practice.
Chakshu is a US alliance certified yoga teacher, a biotechnologist and an Ayurveda evangelist. Her passion is to help people live a toxic-free life, emotionally and chemically. She loves reading self-help books. When she is not writing, she is busy thinking about life.
Like this post? Share it!
Chakshu is a US alliance certified yoga teacher, a biotechnologist and an Ayurveda evangelist. Her passion is to help people live a toxic-free life, emotionally and chemically. She loves reading self-help books. When she is not writing, she is busy thinking about life.