You are tired of regular appointments with your dermatologists and still, don't feel any difference. Your skin feels tight and dull.
The flaking is embarrassing. Despite spending all that money, acne resurfaces just when you stop using your medication.
I can feel you. I have been there myself. Tired and helpless and willing to try anything that promised to heal. I tried a lot of options only to be disappointed until I found Ayurveda.
After years of experiment, I have listed 9 best ayurvedic cleansers for acne.
Why Ayurveda?
Ayurveda is a traditional medicine. It deals with the problem on an internal level. It works on the root cause instead.
The power of Ayurveda lies in its holistic approach and the use of herbs to treat an ailment.
In this post, I am listing down the best ayurvedic cleansers for acne. After years of trials and errors, I can finally say what works and what doesn't.
However, patience is the key in Ayurveda and you sometimes feel like nothing is changing. But it needs disciplined use.
I was finally able to get rid of acne forever. I still get some zits when my digestion is poor but my face is otherwise healthy and scar-free.
Best Ayurvedic cleansers for acne
DIY (Do It Yourself Cleansers)
1. Fullers Earth + Rose powder ( Recommended)
This is one of the best ayurvedic cleansers for acne. It is my favorite and the most recommended one. I have been using this powder cleanser for a long time now and the benefits are immense.
It is safe for your skin and the planet equally. A zero-waste facial cleanser, that removes scars, clogged pores, and acts as a face mask too.
Ingredients Required
Fullers earth
Fuller's earth is a natural clay full of minerals mostly extracted from England,  America and Asia. The powerful clay removes excess oils and helps diminish the inflammation quickly.
Fuller's earth is of great importance in Ayurveda and is used in most of the Ayurvedic face cleansers and masks. It has a great binding capacity and can be mixed with a variety of herbs depending upon the requirement.
Rose powder
Rose petals powder is the beauty secret used by queens and princesses in ancient times. Their facial care routine included, rose water or crushed rose petals. You can use dry rose petals for this cleanser.
Method
Mix fullers earth and rose petals powder in the ration of 70: 30. For eg., to make 100 g mix, take 70 g fullers earth and 30 g rose petals powder.
You can use water or rose water to make a paste. Rosewater will hydrate your skin and make it plump. Leave it on for 5-10 mins and then wash it off.
Using this cleanser every day will give you a clear complexion within 30 days. I can't highlight the benefits of this powder enough.
This is a staple in my beauty routine and I use nothing else to cleanse.
2. Fresh aloe vera leaf
Aloe vera leaf has so many benefits. In all my posts you will find one section dedicated to aloe vera due to its benefits. This is as simple and inexpensive as it can get.
Cut a small piece of aloe and remove the thorns. Rub the entire leaf on your face for 10 mins.
This is a great facial if you are scared of the chemical-based facials. A morning facial with the leaves will remove your tan and give a natural glow to your face.
Aloe vera is extremely cooling and soothing for the pimples too. It reduces the inflammation quickly.
If you want better results, add a small drop of eucalyptus or spearmint essential oil to the leaf and then massage it on to your face.
Leave it on for 10 mins and then wash your face with cold water. This will close your pores and give your skin a tight and plump look.
3. Gram flour + lemon + yogurt
This is the bridal beauty secret in Ayurveda. Chickpea flour or gram flour can be used with lemon and yogurt to deep cleanse and exfoliate your skin.
This works as a natural de-tan and hair removal paste too.
Method
Take 1 tablespoon gram flour + ½ lemon juice + ½ teaspoon yogurt.
Apply the paste on the entire face or body. Leave it on for 20 mins.
If you have severe acne, don't scrub your face. Wash it off with lukewarm water after 20 mins. If you have blemishes, you can gently scrub your face using water and then wash it off.
If you have facial hair, you can take a drop of water on your palms, wet your hands. Massage in the opposite direction of the hair growth using your palms. This removes fine hair and peach fuzz.
Over the counter soap-free cleansers
4. Kama Ayurveda- Soap-free cleanser (Recommended)
There are very few brands that make powdered face cleansers that are chemical-free. I love this one. It has all the herbs beneficial to promote a clear complexion. I keep this handy when I don't feel like doing any DIY methods.
5. Forest Essentials- Soundarya 
Another great soap-free cleanser is Forest Essentials Soundarya Ubtan. This smells amazing.
It contains natural herbs like almond seeds, cashew nuts, turmeric, rose petals and many more. This is, however, a little expensive. But it is worth it.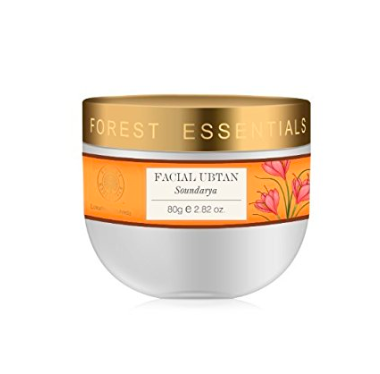 6. Roots and Herbs- Face Ubtan
This is a new brand in the market. The ingredients are promising. It is another soap-free herbal facial cleanser.
The herbs used are licorice and Fig which are both used in Ayurveda to enhance complexion and clarity of the skin.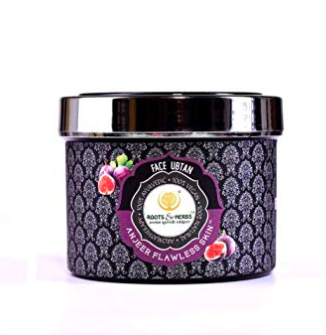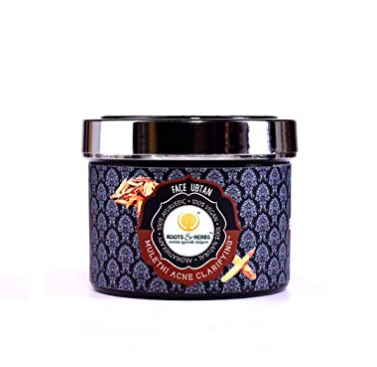 I found this when I was looking for a handmade cleanser option. The packaging is simple and the cleanser looks like an authentic Ayurvedic facial cleanser.
This mixture can be used as a face mask, cleanser and an exfoliator. This is made from 100% natural herbs and smells good.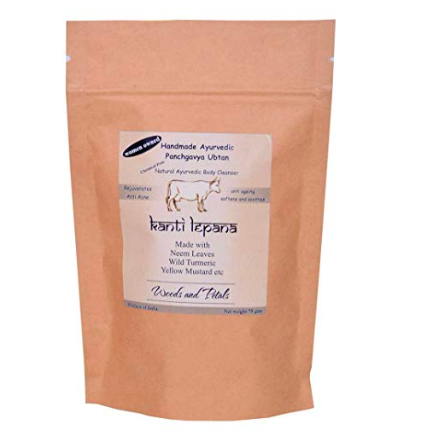 Soap-based Cleansers
I am not a big fan of soap-based cleansers. They make skin dry and patchy in the long run and I prefer natural kitchen based cleansers.
But there are a few brands that are using clean ingredients and infusing the properties of natural herbs in the formulation.
These are the two soap-based ayurvedic cleansers that are really good.
This is one of the most loved facial cleansers on amazon.  I found this brand on Instagram and thought of giving it a try. I must say, the texture feels gorgeous and the smell is great.
What I loved most of this facial cleanser is that it didn't make my skin feel dry and stretchy afterward. It makes your skin feel fresh and clean. Seal in your skin with a nice moisturizer to feel the difference.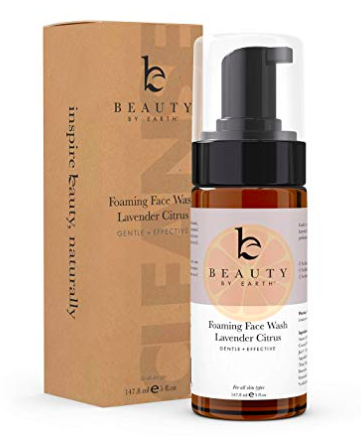 Biotique is one of the most successful brands that combines Ayurveda with modern biotechnology. The products are tested in Switzerland for efficacy. The composition is based on ancient Ayurvedic recipes.
I have tried a few products myself and I love their neem cleanser for acne-prone skin.  It makes my skin a little dry but cleanses my skin thoroughly.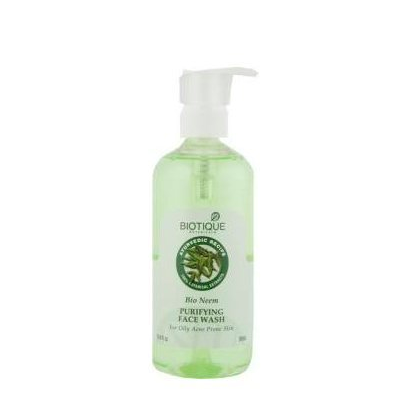 Chakshu is a US alliance certified yoga teacher, a biotechnologist and an Ayurveda evangelist. Her passion is to help people live a toxic-free life, emotionally and chemically. She loves reading self-help books. When she is not writing, she is busy thinking about life.
Like this post? Share it!
Chakshu is a US alliance certified yoga teacher, a biotechnologist and an Ayurveda evangelist. Her passion is to help people live a toxic-free life, emotionally and chemically. She loves reading self-help books. When she is not writing, she is busy thinking about life.